Building a beautiful deck is about more than wood, fasteners and connectors. It's about the experiences and connections that happen between people while they are enjoying their time outside. Outdoor living can enhance our enjoyment of life immeasurably, and a well-built deck can make an important contribution to that aspect of our lifestyle. Simpson Strong-Tie believes that a beautiful deck must also be safe and strong.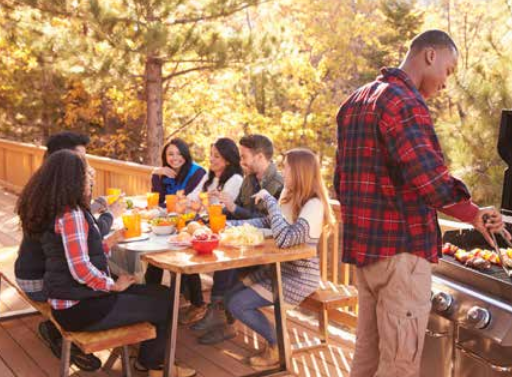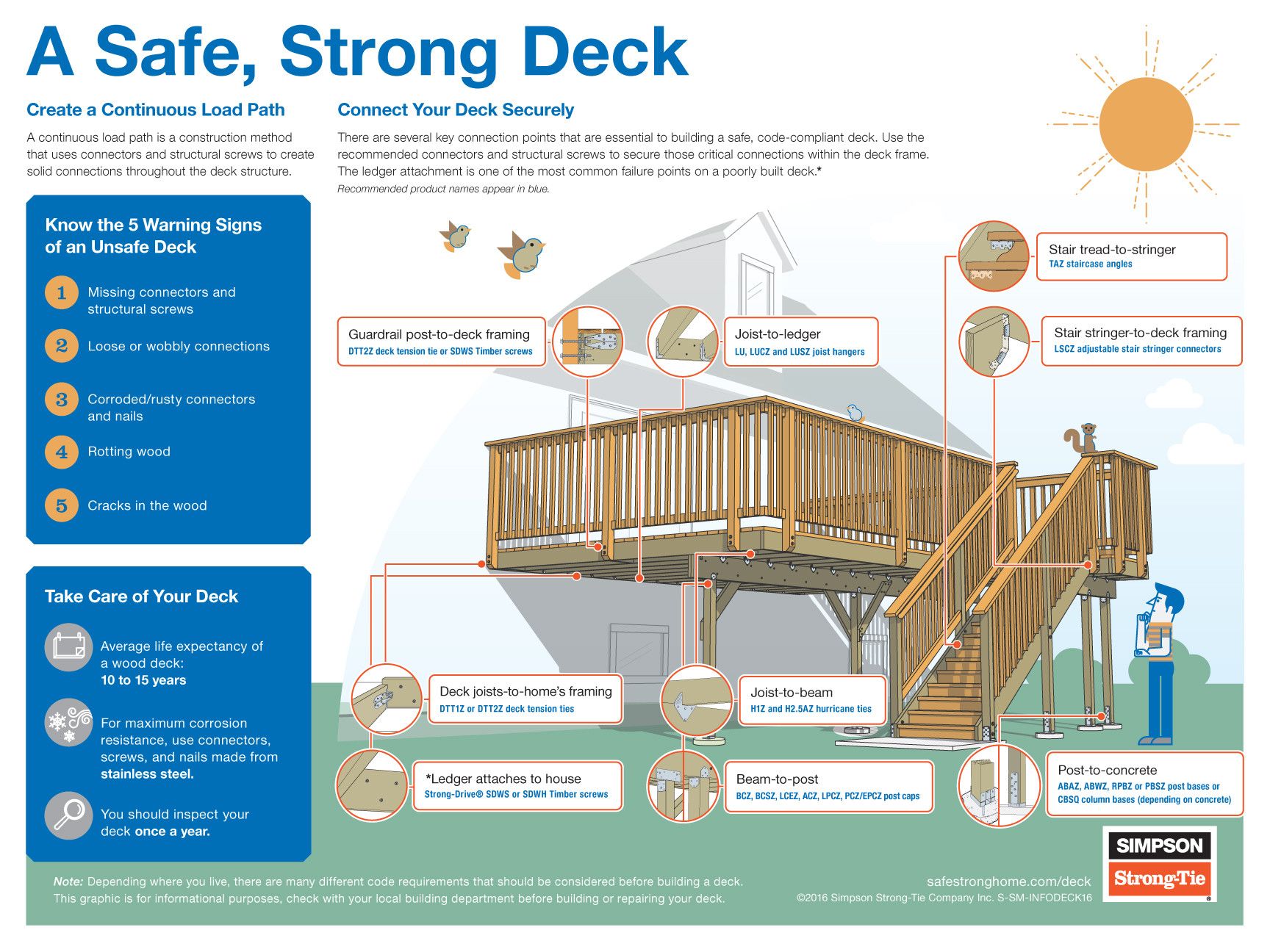 Continuous Load Path
As with your home, your deck should be built using a "continuous load path." The continuous load path is an engineering concept that, when constructed, assures loads are completely transferred from point of application to the foundation via the structural components and connections. The load path or forces from gravity (vertical), lateral (horizontal) and uplift loads effectively transfer the weight (load) from the deck through its frame and then to the foundation and the adjacent support structure (typically your home). If your deck is built with a continuous load path, it will be better equipped to resist forces, such as occupancy, wind, snow and earthquakes. Visit safestronghome.com/deck to learn more about achieving a continuous load path in the construction of your deck.
Do Decks Really Need to Meet Code Requirements?
Because decks may look relatively simple to build, many people do not realize that they are structures that need to be designed to meet minimum standards and resist certain stresses. Like a house, or any other building, a deck must be designed to support the weight of people and objects placed on it, as well as lateral and uplift loads that can act on the deck as a result of occupant movement, wind or seismic activity. The 2012/2015 versions of both the IBC and IRC contain language outlining the general design requirements of structures. This excerpt from the 2012 / 2015 IRC (Section R301.1) represents a summary of the intent of both codes: "The construction of buildings and structures in accordance with the provisions of this code shall result in a system that provides a complete load path that meets all requirements for the transfer of all loads from their point of origin through the load-resisting elements to the foundation."The concept of a complete or continuous load path refers to a series of solid connections and structural members within the deck that transfer load to the ground or adjacent supporting structure (commonly a building). This same principle is applied to the design of all types of wood-frame buildings. This continuous load path is created by using a system of structural connectors and fasteners to connect the wood members together.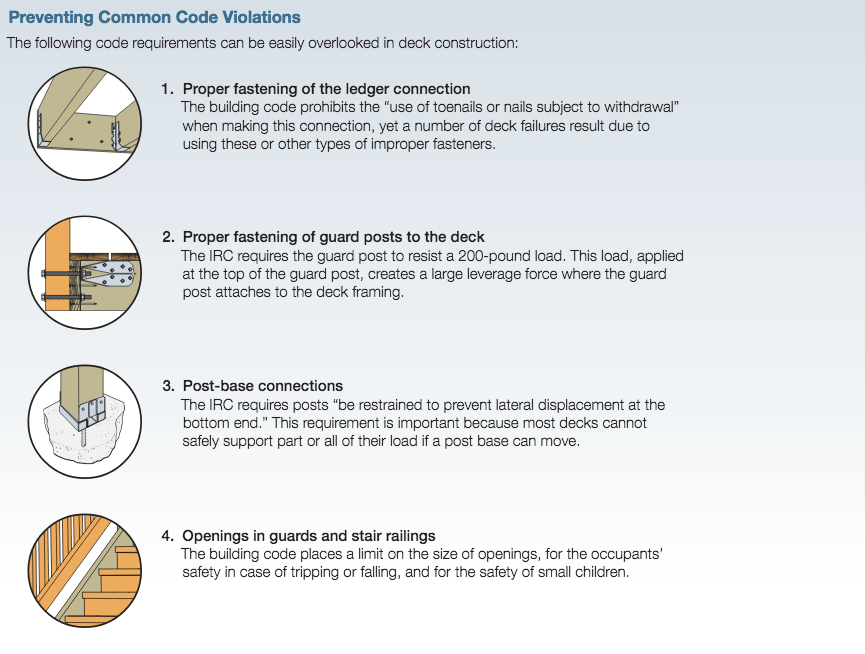 Critical Deck Connections Checklist
To build a safe, code-compliant deck, it's essential that the deck design establish a continuous load path using a system of key connections throughout the deck framing. When this system of connections is made properly, loads are transferred through the deck frame and into the ground and/or the adjacent structure to which the deck is connected.
The connections shown below are necessary in order to create an effective continuous load path.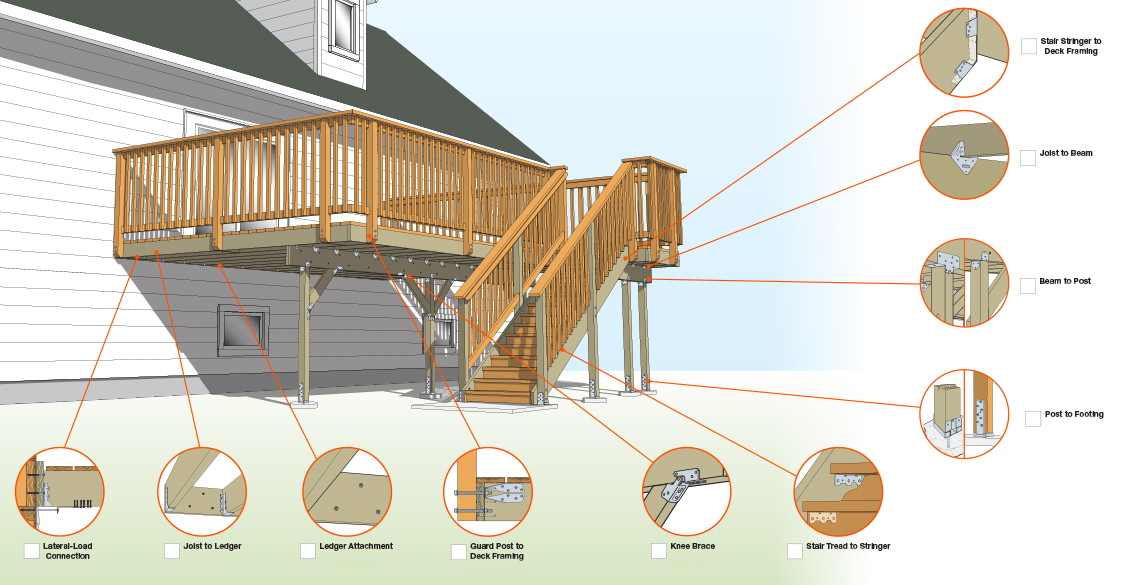 Do I Need to Retrofit?
Retrofitting an Existing Deck
It's estimated that of the approximately 40 million existing decks, only half are code compliant. Experts believe that many of these decks are potentially unsafe. In situations where it's not feasible to rebuild an existing deck, it may be preferable to retrofit it by applying hardware to existing framing members. Many of the products shown in this guide may be installed after deck framing is in place and can improve the safety of the structure and help bring it within the requirements of the code.
The Life Expectancy of Decks
Most experts agree that the average life expectancy of a deck is 10 to 15 years. Decks are exposed to the elements, which can cause deterioration. It's important that decks are properly inspected and maintained on a routine basis. If you are unsure what to inspect for or how often, it's best to consult with a professional, such as a structural engineer, architect, home inspector or contractor, in order to make sure the deck is safe.
5 Things to Look for on an Existing Deck
It is recommended that you annually inspect your deck for issues that need to be addressed. It's best to do this prior to seasons when you use your deck most. When inspecting a deck to determine overall safety and compliance with building codes, look at the five areas below. Use this checklist to help ensure a thorough evaluation.
1. Improper Connections
Any connections that do not meet the requirements discussed in this guide can compromise the safety of the deck. In many cases, toenailing (i.e., joining two wood members with angled nailing) does not constitute a proper connection. Connectors must be installed with the correct fastener.
2. Loose Connections
Vital connections may have degraded over time. Wobbly railings, loose stairs and ledgers that appear to be pulling away from the adjacent structure are all causes for concern.
3. Corrosion

Metal connectors and fasteners can corrode over time, especially if a product with insufficient corrosion resistance was originally installed. See pages 26– 27 for more information on corrosion.
4. Decay

Wood can rot and degrade over time with exposure to the elements. Deck framing members that have rotted may no longer be able to perform the function for which they were installed.
5. Splitting

As wood ages, it is common for splitting to develop. Large cracks or excessive splitting can weaken deck framing members.
Connector Solutions for Retrofitting
The following connectors are some of the products that may be suitable for deck retrofit. Selection of products based upon performance and/or suitability for a specific application should be made by a qualified professional. Simpson Strong-Tie recommends that deck designs be approved by the local building department before work begins.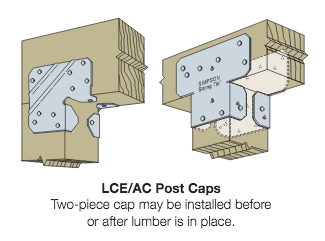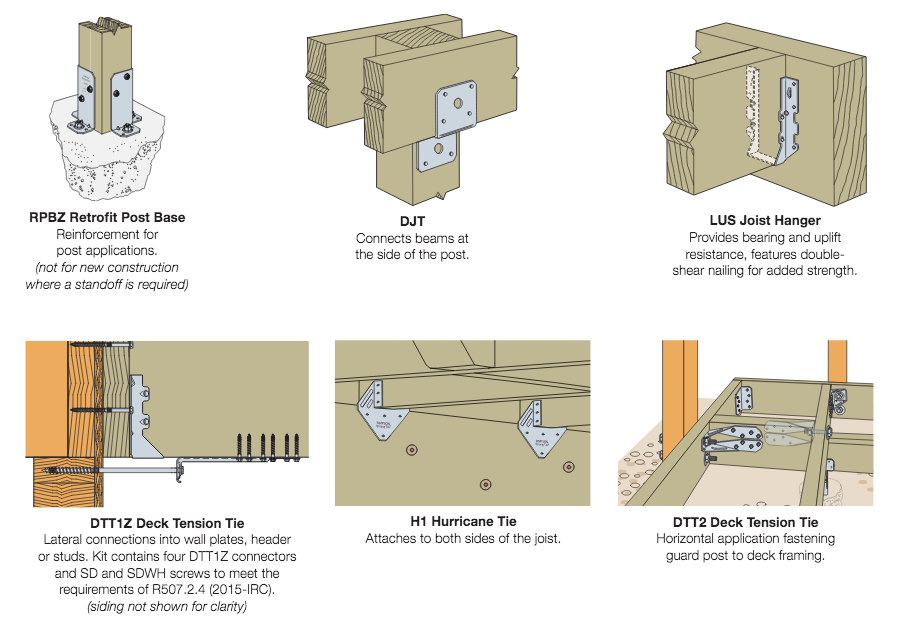 Deck Safety
Simpson Strong-Tie has produced a number of guides for the construction and upkeep of a code-compliant deck.
New Deck and Connection Fastening Guide
The free Deck Connection and Fastening Guide provides instructions on how to recognize defects and deficiencies in existing decks, and guidance for building strong, safe, long-lasting deck structures. Additionally, it goes detail by detail (ledger connection, joist-to-beam connection, beam-to-post connection, etc.) through a typical deck and identifies the relevant building-code requirements (2012 and 2015 IRC/IBC) and connection options. Our deck-code guide can be a helpful reference to an engineer who is just getting acquainted with decks and can also bring you up to speed on revisions to the IRC that may call for engineering changes to even a relatively simple residential deck. You can download the guide from our website or receive it by traditional mail service.
5 Warning Signs of an Unsafe Deck
Do you know how to identify an unsafe deck? The blog article linked above will walk you through the annual steps you should take to identify whether you need important structural deck repairs.
One of the biggest risks for outdoor structure safety is corrosion. The blog post linked above will help you understand how to evaluate exposure levels in your environment and how to select corrosion-resistant products to use for extending the life of your deck.
Infographic: Do Your Decks Meet Code?
Simpson Strong-Tie developed this handy infographic to help contractors and homeowners determine whether they have a deck that meets common building code requirements. The graphic shows how the Simpson Strong-Tie® complete connector system helps build safer, code-compliant decks.
Deck Workshops: Take Classes Locally and Online
Simpson Strong-Tie is committed to providing training and educational opportunities for our customers. Our regional training centers offer workshops and classes about proper specification, product installation and inspection of connectors and structural systems. Training is available for engineers, architects, dealers, contractors and inspectors. Participants can earn professional development hours (PDH) and continuing education credits (CEU) through our registration with the CSI, BIA, ACIA, AIBD, AIA and IACET.
Simpson Strong-Tie has a library of videos featuring everything from how to build a pergola to securing a safe, strong deck. Below you'll find valuable videos on deck safety.